Human Resources Solutions
Saville
Introducing Saville Consulting
Our Vision
" Transforming Assessment around the World"
Our Drivers
Innovation in global assessment
Maximizing the power of the internet
Greater insight and richer feedback
Linking individual, team and organisational data
Exceptional prediction of work performance
The Saville Consulting Wave® Performance Culture Framework
Extensively researched model of key characteristics underpinning success at work across different occupations
Encompasses elements of performance that validation evidence indicates as most important and predictive
Use in conjunction with all Saville Consulting Wave® tools and Aptitude Assessments to maximise their assessment of the model
Accessible to line managers unfamiliar with psychometric measurement
Includes card deck, spreadsheets for collating data and comprehensive User Guide with example applications
Saville Consulting Wave
A new suite of online questionnaires measuring personality, talent, motives, competencies and preferred culture, all combined in one dynamic instrument.
INDIVIDUAL TOOLS
Wave Professional 35-45 mins
Wave Focus 12-15 mins
Wave Focus Styles
13 min completion time
Excellent technical data
80% of the validity of Professional Styles and 80% of the price
Performance driven - predicts Competency, Promotion and Performance
Generic - applicable across a wide range of roles and sectors
All the unique features of Wave Professional Styles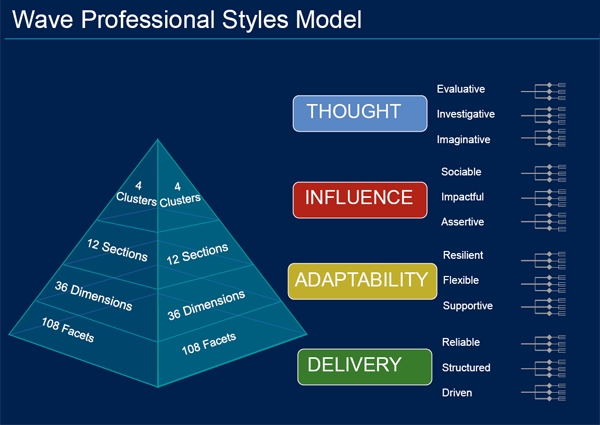 Behavioural Assessment Tools from Saville Consulting - Brief Descriptions
Behavioural Assessment Tools
Saville Consulting has 3 suites of behavioural assessment tools.
Each suite provides a different level of detail pertaining to the candidate's profile.



Wave Professional Styles - Most Detailed Information
Instrument & Comparison Groups
Core Report
Contents of Core Report
Additional Reports that can be generated
Wave Professional Styles (35-40 mins)

4 Comparison Groups available:
•Graduates
•Mixed Occupational
•Professionals & Managers
•Senior Managers & Executives
Professional
Styles Expert Report
Executive Summary Profile: Quick one-page overview of psychometric profile with scores across 12 sections.
•Response Summary: Scores on Ratings Acquiescence, Consistency of Rankings, Normative-Ipsative Agreement & Motive-Talent Agreement.
•Psychometric Profile: Scores and descriptions for 108 behavioural facets which aggregate to 36 dimensions and 12 sections. Deeper insights through info on facet ranges, N-I splits and M-T splits for each dimension.
•Summary Psychometric Profile: Comprehensive one-page summary of psychometric profile with scores across 36 dimensions and indicators of facet ranges and splits.
•Competency Potential Profile: Scores for 36 competency dimensions and 12 sections.
•Predicted Culture / Environment Fit: Aspects of culture, job and environment that are likely to enhance / inhibit the candidate's performance.
14 additional reports can be generated:
•Line Manager Report
•Personal Report
•Interview Guide
•Leadership Report
•Reflections Report
•Premium Development Report
•Summary Development Report
•Entrepreneurial Report
•Team Roles Report
•Types Report
•Sales Report
•Full Psychometric Profile
•Summary Psychometric Profile
•Predicted Culture & Environment Fit
Wave Professional Styles - Most Detailed Information
Instrument & Comparison Groups
Core Report
Contents of Core Report
Additional Reports that can be generated
Wave Focus Styles (20 mins) 4 Comparison Groups available:

•Graduates
•Mixed Occupational
•Professionals & Managers
•Senior Managers & Executives
Focus Styles Expert Report
Response Summary: Scores on Ratings Acquiescence, Consistency of Rankings, Normative-Ipsative Agreement & Motive-Talent Agreement.

•Psychometric Profile: Scores and descriptions for 36 behavioural facets under 12 sections. Deeper insights through info on facet ranges, N-I splits and M-T splits for each section.
•Competency Potential Profile: Scores for 36 competency dimensions and 12 sections
•Predicted Culture / Environment Fit: Aspects of culture, job and environment that are likely to enhance / inhibit the candidate's performance.
10 additional reports can be generated:

•Line Manager Report
•Personal Report
•Interview Guide
•Premium Development Report
•Summary Development Report
•Entrepreneurial Report
•Team Roles Report
•Types Report
•Psychometric Profile
•Predicted Culture & Environment Fit
Strengths Suite (1/2) Concise Information
Instrument & Comparison Groups
Core Report
Contents of Core Report
Additional Reports that can be generated
1.
Work Strengths
(20 mins)
Comparison Group: Mixed Occupational
Competency Potential Profile
Competency Potential Profile: Scores for 12 sections and 36 dimensions, under the 4 Wave clusters.
Also provides info on test taking style – Ratings Acquiescence and Consistency of Rankings.
•Line Manager Report
•Interview Guide
2.
Commercial Strengths
(10 mins)
Comparison Group: Sales
Sales Report
Sales Profile: Scores for 8 sections and their corresponding competencies.
Sales Potential Indicators: Scores on 5 key performance indicators for sales roles.
Also provides info on test taking style – Ratings Acquiescence and Consistency of Rankings.
None
3.
Operational Strengths
(10 mins)
Comparison Group: Technical
Technical & Safety Report
Technical & Safety Profile: Scores for 8 sections and their corresponding competencies.
Safety Potential Profile: Scores on 3 key performance indicators for safety.
None
4.
Customer Strengths
(10 mins)
Comparison Group: Customer Service
Customer Service Report
Customer Service Profile: Scores for 8 sections and their corresponding competencies.
Customer Service Potential Indicators: Scores on 6 key performance indicators for customer service roles.
None
5.
Administrative Strengths
(10 mins)
Comparison Group: Administrative
Administrative Service Report
Administrative Service Profile: Scores for 8 sections and their corresponding competencies.
Administrative Potential Indicators: Scores on 6 key performance indicators for administrative roles.
None